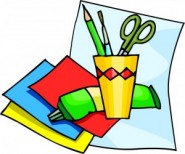 St. Paul's is having its annual School Supply Drive for students in need in the community. There is a box located in our Reference Area for patrons looking to drop off supplies.

Suggested supplies include; highlighters, composition notebooks, pens/pencils, erasers, looseleaf paper, backpacks, etc.

The supplies will be distributed through the Food Pantry located at St. Paul's Reformed Church.