The New York Transit Museum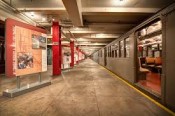 The New York Transit Museum is housed underground in an authentic 1936 subway station in Downtown Brooklyn, the Transit Museum's working platform level spans a full city block, and is home to a rotating selection of twenty vintage subway and elevated cars dating back to 1907.
Visitors can board the vintage cars, sit at the wheel of a city bus, step through a time tunnel of turnstiles, and explore changing exhibits that highlight the cultural, social and technological history – and future – of mass transit.
The Museum pass includes free admission for 2 adults and 4 children.
Ask at the Reference Desk to schedule your trip or click on museum passes to register on your own and see the complete museum listing. Library card and password/pin are required.