The Cradle of Aviation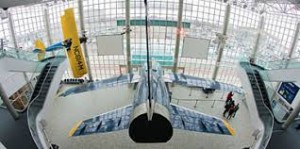 The Cradle of Aviation Museum is an educational center preserving Long Island's contribution to aerospace, science and technology by inspiring future generations through learning. It is located on land once part of Mitchel Air Force Base which, together with nearby Roosevelt Field and other airfields on the Hempstead Plains, was the site of many historic flights.
The Museum pass includes free admission for 2 adults and 2 children(ages 2-12).
Ask at the Reference Desk to schedule your trip or click on museum passes to register on your own and see the complete museum listing. Library card and password/pin are required.